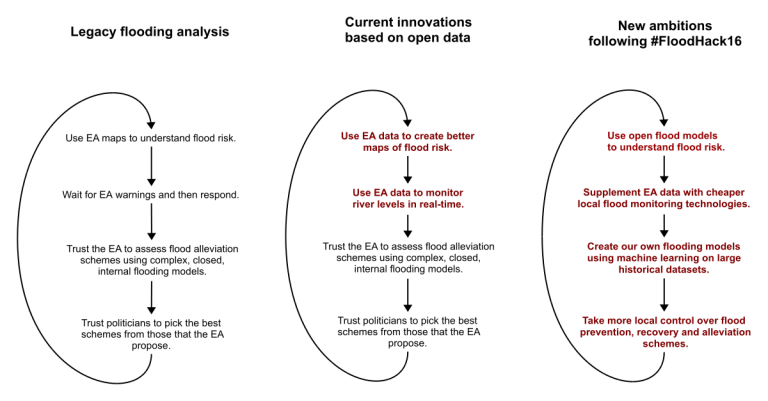 #Floodhack16 – where next?
Written by: Tom Forth, IMACTIVATE, 24/03/2016
Find out more: Website
On the 11th and 12th of March nearly a hundred people came to ODILeeds to pool knowledge, share ideas, and build solutions to flooding. We were blown away by what was achieved.
For a quick intro to what happened, check out Paul Lancaster's blog for TechNorth. For more details read through Stuart Childs's fantastic working with water blog. For details and links to what happened check out Simon Redding's hackpad.
Or if videos are more your thing, John Popham's produced 23 for you to watch on the #FloodHack16 YouTube playlist.
Two weeks after the event, I want to move discussion beyond what happened and start sharing what's happening next. A good place to start is by looking at how flooding analysis works currently, how it is beginning to change, and where I think it's going.
Currently flooding analysis and management is largely the job of the environment agency. They collect data, process it, design flood schemes, and advise on which should be implemented.
More recently the environment agency have started releasing open data. It's already being used fantastically well by companies like Shoothill whose maps of flood risk and real-time flooding alerts hugely increase the number of people accessing knowledge that already exists. But these advances are just the first of many improvements that open data will allow.
At #FloodHack16 I think we saw a glimpe of what's coming next.
The work that Nick Efford did makes rainfall data easier to access in the same way that gaugemap makes river level data easy to access. FloodNetwork and ThingsNetwork, now operating across even more of the North of England, will let us supplement existing data sources on river levels. Progress by Guy with Friends of the Earth, Nick Jackson with mySociety, Paul & Paul with Arup and ODILeeds, and by Simon Redding will further increase the use we can make of data to understand flooding.
Once we can clearly show how many homes and business flooding affects and clearly show who is responsible for investment to reduce that damage, we can start making a sound economic case for intervention.
In most cases we will decide on a level of protection that reduces but does not eliminate the risk of flooding. In these places the recovery roadmaps produced by Giles Dring, and the flooding status and community response tools produced by BJSS and Dan at imactivate will help more areas experience better recoveries after flooding.
When I wrote about SimFlood I didn't imagine that we would make this much progress so quickly. From almost nothing, we have built ThingsLeeds, an open and free network that will allow us to monitor river levels in Leeds.
But it's the clearer picture we now have for how to proceed that's most exciting. We're already making progress. If you'd like to join in, we'd love to have you. Contact me at @thomasforth.