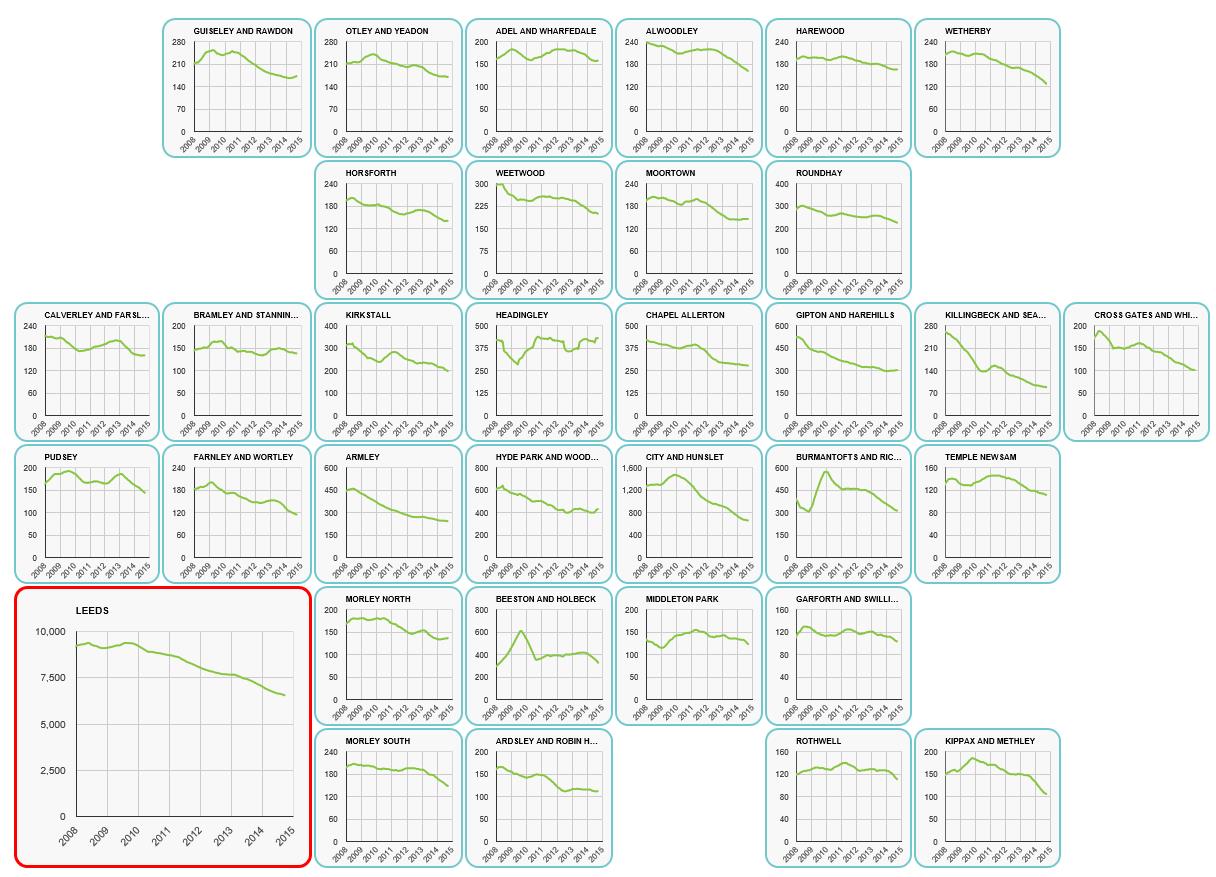 The Leeds Empties Map
Written by: Tom Forth, ODI Associate and CEO of the software company imactive, 22/06/2015
Find out more: Website
At the end of April 2015 the ODI Leeds challenge team finally finished our Innovate UK sponsored work with Leeds Empties.  It was hard work, but we've learned a lot and delivered some really promising products which we'll be sharing on this blog in the coming months.
The first of these is the Leeds Empty Home trends map currently hosted at http://tomforth.co.uk/emptiesmap/.  This interactive tool shows how the number of long-term empty homes in Leeds has fallen from nearly 10,000 in 2008, to around 6,000 today.
Today, less than 2%, or 1 in 50, of the homes in Leeds are long-term empty.  Just a fraction of the 70,000 new homes we need to build as a city by 2030.
The number of empty homes has fallen, or is falling, in almost every ward of the city and progress in the central ward of City and Hunslet is astounding.  The recent peak of nearly 1500 empty homes in 2010 has fallen by over 50% to around 650 today.
Of course, the city's housing department already know this — but before this data went live on Leeds Data Mill, there was no way for the population at large to know.
There's a common belief in Leeds that many of the new city-centre flats are empty.  Now that we have the data we can see that this might have been true five years ago, but that it isn't now.
We never planned to build the Leeds Empties Map and we would never have asked for the data behind it to be released.  But once it was made available on Leeds Data Mill and we started to explore it, it made complete sense to build it for ourselves.
We're happy to share our work and hope it will inspire others.  In our next post we'll share more about the empty homes profiling tool we built for Leeds Empties and how we hope it will keep the number of Empty Homes in Leeds coming down as the number of good homes continues to rise.