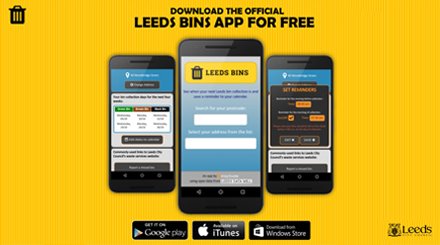 Leeds Bins
Produced by: Tom Forth, Imactivate
Find out more: App Store / Google Play / Windows App Store / Website / YEP
The Leeds Bins app allows you to easily obtain bin collection information in Leeds, West Yorkshire. Input your address to see your Black, Green and Brown bin collection dates for the next four weeks. With the app you can save these dates to your device's calendar and specify when you are reminded of upcoming collections. Also, see where your nearest recycling points are on an interactive map.
If your bin has not been collected please click on this link to report the issue via www.leeds.gov.uk
If your property is not showing on the app, it may be missing from the underlying data. Should this be the case, please use the Contact Us section on the Data Mill North and the Leeds City Council Open Data team will look into this for you.
Please note: If you live in a flat where there is a communal bin collection, your personal address may not appear on the app