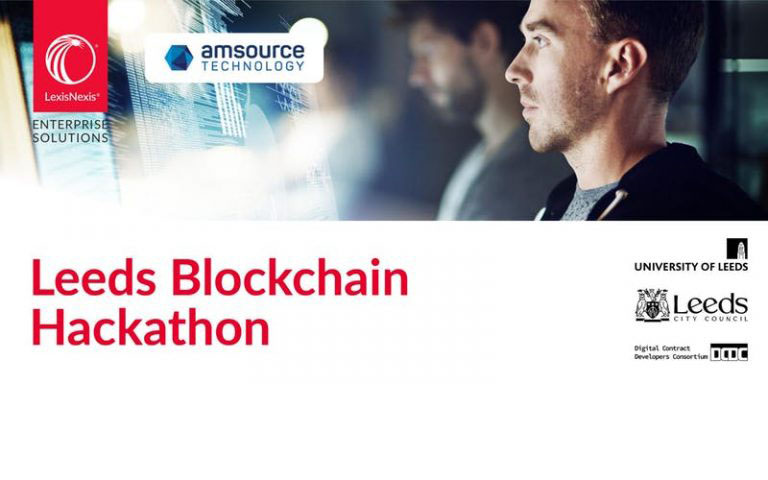 Leeds Blockchain Hackathon 2018
LexisNexis
3, City West Business Park
Gelderd Rd
Leeds
LS12 6LN
Leeds Blockchain Hackathon 2018
The first Leeds Blockchain Hackathon is here, and you're invited.
#LBH2018 is the ultimate event for learning, hacking and networking for teams of budding coders, developers, tech enthusiasts and people from all areas of the vibrant tech community in Leeds. The grand prize will be awarded for the most ambitious, impressive or fully realized prototype and we'll have experienced judges from business and academia and mentors to encourage and support all participants.
If you're a newbie, don't panic! There will be technical experts on hand to help you build your project.
Oh and, we're bringing for the beer and pizza. For 48 hours!
So, what is a hackathon, and why blockchain?
Hackathons are premier start-up incubators where disruptive, breakthrough ideas come to life in a myriad of ways. These are engaging events where teams of developers collaborate, sharpen their skills and bring their ideas to life.
We've all seen cryptocurrency mania in the news, but what else can we use this technology enable? What is beyond currency? Are there new networks and relationships could we create in a world where blockchain means untrusted devices can co-operate in predictable ways?
PRIZES
???
SCHEDULE (more details soon!)
Friday 16th November 18:00 pm – Welcome Meetup
Saturday, 17th November 08:00 am – Day 1
Sunday, 18th November 08:00 am to 15:00 pm – Day 2
DETAILS
We are looking to form teams from 3-6 people. You can either register as a team or we will help form teams for you at the meetup event on the Friday. Meals and refreshments will be provided to all participants throughout the event, and there will be plenty of swag too.
Judges and mentors will be present from from FinTech, Local Authority, Law and Academia.
FAQs
What can I bring into the event?
Please bring your laptop, smart phones, and any other gadgets you think you'll need. We'll provide the power, internet, caffeine and pizza!
How can I contact the organiser with any questions?
You can contact us via our technology sponsor DCDC through tumblr https://dcdcio.tumblr.com/ and facebook (including messenger) https://www.facebook.com/dcdcio
If you would prefer to email, you can contact benjamin.babik@lexisnexis.co.uk for general (including technical) questions and for questions about schedule, dietary requirements, and access and directions to LexisNexis office you can contact lynn.seddon@lexisnexis.co.uk
I don't have a technical background, is this event suitable for me?
Definitely, this is a great opportunity to learn alongisde mentors and coders who have the same passion for blockchain, tech and building ethical projects.
What kind of technical experts will be available to help me?
We will have developers attending who are familiar with Ethereum (Solidity), IOTA, DCDC and Neo.
PROJECTS
We are interested in projects that do good things. Does your idea mean greater access to technology? Does your idea tackle a real world problem facing ordinary people? Is your idea accessible?
To give you a headstart, our conversations with Leeds City Council have given us these "starters for ten":
1) Improvements to Housing Standards and Growth – e.g:
– Capture, trade and pay for energy consumption across the councils housing stock
– Manage occupancy and rental of council properties with greater efficiency
2) Greener and More Effective Travel and Transport – e.g:
– More effective collection and payment of parking fees, tolls and/or Congestion Zone tariffs
– Provide secure, unhackable and auditable open data that can be used to plan and manage traffic movement
3) Increased Health and Wellbeing – e.g:
– Provide secure, unhackable and auditable patient data wherever it is needed
– Record stocks, transfers and usage of controlled medicines
4) Environmental and Climate Improvement – e.g:
– Trading of carbon or other credits to offset environmental impact
– Provide secure, unhackable and auditable climate data wherever it is needed
5) Enable and Support Smart City Initiatives – e.g:
– Trading city centre sensor data for value in a smart city economy
– Providing solutions for a city of the future with autonomous transportation and other IOT based services
6) Reduce City Council Costs – e.g:
– Removing the need for intermediaries in data collection and payment systems
– Provide secure, open council data without the need for complex systems and solutions
Remember you are welcome to work on your own project outside these ideas. These are just nudges.