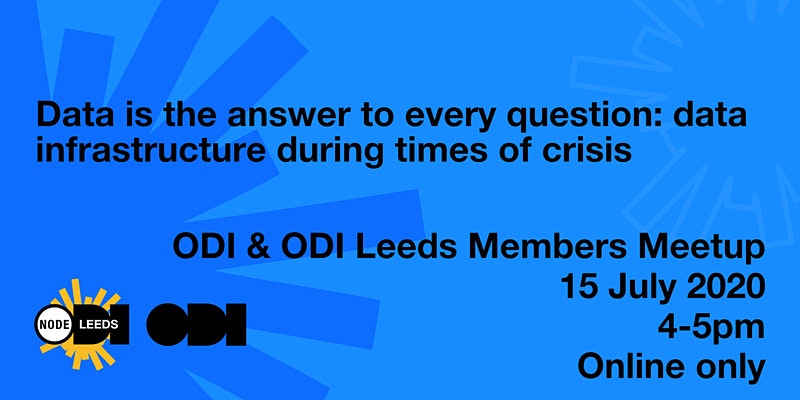 ODI Memebers Meetup Online
ODI Memebers Meetup Online
Data is the Answer to Every Question: Data infrastructure during times of crisis
15 July 2020 – ONLINE ONLY EVENT
16:00 – 17:00
The ODI Members Meetups are normally a regular event for folk to meet up, listen to some amazing speakers from the world of open data, delve deeper in to fascinating topics, then enjoy a good chat over some drinks.
Circumstances might have forced us to take everything online but we promise you'll get the same vibe and get to enjoy some top-notch talks from brilliant folk.
The coronavirus crisis has been overwhelming – in more ways than one – and has revealed a lot about the data infrastructure of our services, our local government, and more. It has been frustrating where data has been missing or not published at all, or people aren't willing to share for 'reasons' despite the urgency of the crisis, and problems in existing data practice were heightened as people tried to make things that could help others.
What can we learn from the coronavirus crisis? Could it bring about a turning point in approaches to building a robust, adaptable data infrastructure? Is a new era of open data just around the corner?
Speakers :
Renate Samson, Senior Policy Advisor at ODI
Olivier Thereaux, Head of R&D at ODI
Richard Fairhurst
Dan Cookson, spatial information specialist, and Stuart Lowe/Patrick Lake, ODI Leeds
Alistair Bullward, NHS Digital
Robin Lovelace, Institute for Transport Studies, University of Leeds