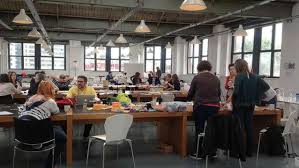 Open data for start-ups and SMEs
Organiser: Open Data Institute
ODI Leeds - 3rd Floor Munro House. Duke Street. Leeds, England LS9 8AG. 18:00 - 21:00
Open data for start-ups and SMEs
Are you curious about the benefits of open data? Perhaps you have a business which could benefit from it, find out how other people are using it? Or maybe you already have a business working with open data and you are looking for funding.
Join the Open Data Institute, ODI Leeds and Leeds Data Mill for an informal evening, and meet our teams and startups working with open data.
This event is a great opportunity to learn more about how open data is being used to improve business and services in Leeds city region,  how you can benefit from these innovations in open data and get funding through the ODINE project.
More about open data
Open data is comparable to open source in terms of its potential for disruptive innovation. These days businesses are looking to understand how they can best make use of the data they produce and the data that is all around them to drive revenue and create new business opportunities. The 'Open Data' movement challenges businesses to think about data in a different way: open by default. Open data has already become an important part of how governments and organisations operate and engage with the private sector.  Through the Open Data Institute startup programme and the Open Data Incubator for Europe, the Open Data Institute is supporting the development of startups in the UK and across Europe. By partnering up with them, we are looking to encourage startups to start thinking about how the use and creation of open data can be at the heart of their business. Here you'll find a good description of Open Data to see if you're operating in the right space to apply.