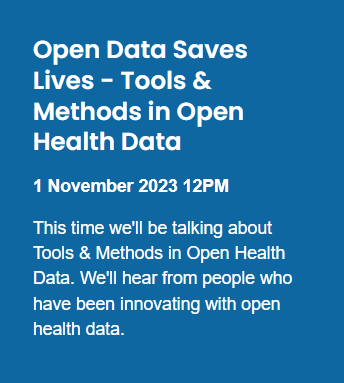 Open Data Saves Lives – Tools & Methods in Open Health Data
Virtual. Register: https://www.eventbrite.co.uk/e/open-data-saves-lives-tickets-718391126197?aff=oddtdtcreator
Open Data Saves Lives – Tools & Methods in Open Health Data
#OpenDataSavesLives is driving open innovation with data, our aim is to help reduce inequalities by creating for the first time a true network of collaborators and resources in the open.
Session 41 is on the 1st November 2023 12pm-1pm. This time it's all about analytical tools that help you use data to make improvements and progress in Healthcare decisions.
Speakers:
Richard Irvine – Chief Data Officer, Leeds City Council/NHS West Yorkshire ICB . The role of Data Mill North.
James Perry – Director, Egnida Innovation. They are developing a vulnerability tool to help end fuel poverty using open health data
Wang Zhao & Matthew Stammers – The Whole System. They have been working on a new open source modelling tool 'Slowing the pace of Alzheimer's'.
This is a semi-regular meeting to connect with new people, share work, get project updates, and more. To get a better understanding of the #OpenDataSavesLives meetings so far, please visit the website where you can find recordings of previous sessions, notes, useful articles and more.
Share your projects, questions and data sources with us! We encourage you to add links in the chat – many of our events lead to connections and opportunities offline so remember to introduce yourself and share why you are here.