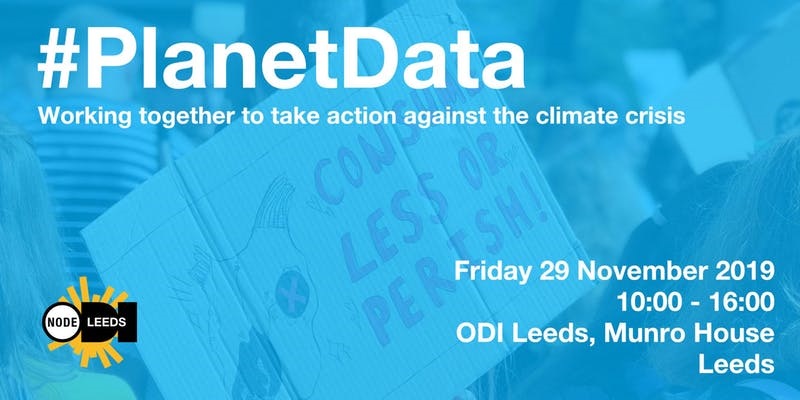 ODI Leeds
Duke Street
Leeds
LS9 8AG
Planet Data 2019
There's no need to fight climate change alone – lets bring people together who can collaborate, share, and amplify to get things done.
About this Event
Planet Data 2019
29 November, 10:00 – 16:00
ODI Leeds, Munro House
Lack of data. Development in isolation. Not sharing breakthroughs or useful resources.
These can all prevent significant and meaningful progress towards creating accessible means of tackling climate change. All of these also have a simple solution – be radically open. If you publish your data openly, someone will use it and improve it. If you share your development, someone will help you make it better. And if you share your resources, you can refine someone else's project.
At ODI Leeds, we are 'radically open.' #PlanetData will help you and your organisations to work in the open, share your data and your work, let others reach in and help improve the overall outcome. This is participation without permissions and removing the barriers to entry.
So join us on 29 November for an 'open house' style event, where the main aim is to connect people who want to work together, and encourage folk to publish their data to foster further innovation.
———————————-
Agenda
Session 1: 10:00 – 12:00 & Session 2: 13:00 – 16:00
Share – An intro talk from ODI Leeds to set context, followed by short talks from the audience in an 'unconference' style. (Speakers nominate themselves to share their work and ask for help.)
Do – A Q&A session for the speakers
Amplify – 'So What?' What needs to happen next to make projects real.
Data Publishing Surgery – All day
If you have data that you want to publish but don't know where to begin, you can drop in to the Data Publishing Surgery at any time to get some useful advice. You'll be surprised how quickly you can prepare data ready for publishing, and once it's out there people will help you improve the dataset as they use it.
————————————–
People are welcome to come for just the morning or the afternoon, or to stay all day. We'll keep people refreshed with tea/coffee available throughout. Everyone is welcome but this event is about taking action.
Share. Do. Amplify.